What is Google My Business and Why Should I Use It? 
Google My Business is a free tool that allows you to manage your web presence and provide up-to-date information about your facility. 
Creating a Google My Business page will make it easier for people to find your school or studio with a Google search. About 97% of people first hear about local businesses through the web, which goes to show how a completed Google My Business page can help you dominate in your industry.
How will a Google My Business page help you conquer web searches? Check it out: 
Builds Trust
Search engine optimization (SEO) is critical for ranking organically on Google, and it's not just about keywords anymore. SEO includes website speed, content, and how everything appears to users when they are browsing the site. 
Reviews are a crucial part of your SEO strategy. Google uses reviews as a ranking factor for businesses on their search engine results pages (SERPs). Not only can reviews drive traffic to your site, but they can build trust with potential customers. When users see reviews from people that have attended your classes, it strengthens your credibility and they're more likely to interact with your business.
Having reviews will also build your trust with Google, which is important because Google provides search results that are deemed trustworthy and reliable. Google will recognize when you get reviews, respond to feedback, and upload to your listing regularly, which will help boost your reputation.
Google's trust algorithm also looks at:
blogs

links to other trusted websites

badges, seals, and certificates

privacy policy, terms, disclosure

social media presence
TIP: If you need more reviews, don't be afraid to ask your members for them!
Improves Local SEO 
Along with organic SEO, local SEO should be included in your SEO strategy. Local SEO provides results solely based on the geographic location of the user. Simply creating a Google My Business page can improve your local SEO rankings.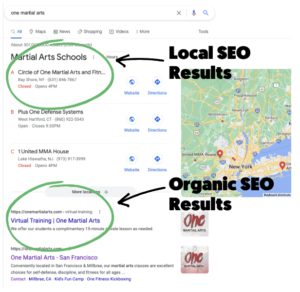 Maps are key pieces of the user experience and how your school is ranked on search engines. Maps help users navigate to a business. Listing your school on Google Maps and providing an address on your Google My Business will help grow traffic through local searches. If your business is not listed on Google Maps, you're missing out on potential leads. 
Boosts Engagement
According to Media Captain, complete Google My Business listings are 7 times more likely to get clicks than ones that are left incomplete – that means completing your listing will help boost engagement and increase traffic to your website. 
Consider adding the following 3 elements to your Google My Business listing to boost engagement:
Photos and Videos –  Add photos and videos to your listing to help your school stand out from others in the search results while giving people a visual of what they will experience when they come in.

Having a larger display of photos generally gives the impression the business is reliable and reputable.

 

Contact Information – Include your company's phone number to make it easy for potential leads to communicate with your school with the click of a button. 

Business Hours – Add your business hours so leads will know when you're open and available to talk.
To further boost the success rate for your Google My Business page, include keywords in your title, add photos of the team, and be sure to include links to other pages on your site. 
TIP: High-quality and videos tend to perform better because they improve the user experience.
If you're driving people to your website from your Google My Business listing, make sure your website is built to convert. At Market Muscles, that's what we specialize in – schedule a call with us to learn more!